With some parts of the Kingdom seeing twice the rainfall in May that we'd normally expect, and with the temperature now getting higher, it's no surprise the trees and hedges are eagerly sucking up all that moisture from the ground and giving the landscape a particularly luscious lush'ness – even the nortoriously lazy Hornbeam (?) trees in the walk outside the shop have finally started to get a wriggle on and show some colour. It may be a few weeks later than normal, but the palette of green which nature provides is particularly welcome this year.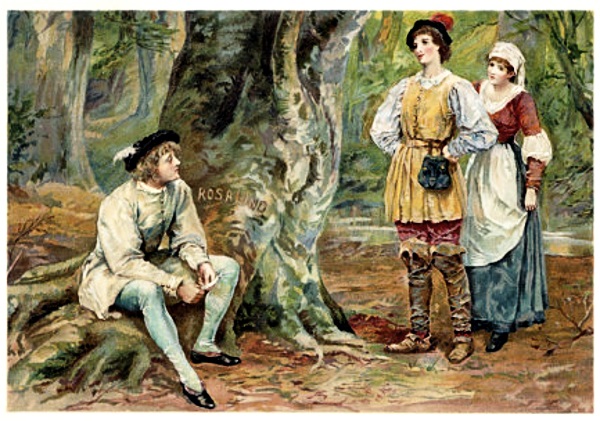 Shakespeare's play 'As You Like It' features the playful and lovely ditty 'Under The Greenwood Tree', an ode to the beauty and attraction of a life lived in nature.

Under the greenwood tree
Who loves to lie with me,
And turn his merry note
Unto the sweet bird's throat,
Come hither, come hither, come hither:
Here shall he see
No enemy
But winter and rough weather.

Who doth ambition shun
And loves to live i' the sun,
Seeking the food he eats,
And pleased with what he gets,
Come hither, come hither, come hither:
Here shall he see
No enemy
But winter and rough weather.

If it do come to pass
That any man turn ass,
Leaving his wealth and ease,
A stubborn will to please,
Ducdame, ducdame, ducdame:
Here shall he see
Gross fools as he,
An if he will come to me.

With a little more warmth in the air and the light lasting a little longer into the evening, a walk about the Shire is always a pleasure – our little yellow 'Around & About' walking maps of the locale are perfect pocket-sized guides for helping you explore – based on OS maps, their 1:16000 scale makes everything clear and interesting. This little series of maps are £3.99 each and the range we stock collectively covers most of this neck 'o' the woods, they're in the shop just as you come in the main door, and they'll be on the website in the coming days.

Equally luscious this week is our crop of Coles Signed Editions, each title bursting with goodness and joy – if the warmth is giving you thoughts of getting the barbecue out, then who better on the tongs than Tom Kerridge and the fine and talented folk behind Honey & Co; we go beneath the surface with Alice Roberts and dig up the tale of who we really are; and John Green reflects on what we've become; we make a run for it with Damien Lewis in 'SAS Great Escapes'; great pleasure is to be found in rod & line and the beautifully cast words of David Profumo in 'The Lightening Thread'; we follow Napoleon as he stomps across Europe collecting art which may not have been his to collect; there is great storytelling from Sarah Winman, Lucinda Riley, Cari Thomas and Natasha Pulley, the thrills come from Adrian Tchaikovsky and William Shaw; and for younger readers there's the Grimoire from Derek Landy, stuff gets spooky with Jeff Kinney and Hilary McKay follows up her award winning The Skylarks War with 'The Swallow's Flight'; comedian Frank Skinner is keeping it light, and when it comes to nature writing, we follow the path of Dara McAnulty and Raynor Winn and for a further exploration of the colours of nature, the absolute perfect book is the comprehensive 'Nature's Palette' compiled by Patrick Baty – it is one of the most beautiful books we've seen this Spring. We have more Coles Signed Editions of the hugely popular cook book from James May as well as Seth Rogan's equally popular 'Year Book'. And finally, we have a limited number of the eagerly anticipated 'The Albatross Man' – a book project from Fleetwood Mac's Peter Green which has taken over 4 years to bring to fruition – a labour of love and a perfect legacy.