"The Mole had been working very hard all the morning, spring-cleaning his little home. First with brooms, then with dusters; then on ladders and steps and chairs, with a brush and a pail of whitewash; till he had dust in his throat and eyes, and splashes of whitewash all over his black fur, and an aching back and weary arms. Spring was moving in the air above and in the earth below and around him, penetrating even his dark and lowly little house with its spirit of divine discontent and longing. It was small wonder, then, that he suddenly flung down his brush on the floor, said 'Bother!' and 'O blow!' and also 'Hang spring-cleaning!' and bolted out of the house without even waiting to put on his coat."

The year rolls through its phases in a predictable fashion – out of the blocks in January, a clean sheet of paper, the time for ideas and plans, and the year is off and away. But then comes the time for a bit of tidying up and getting ship-shape before the year starts racing along. Sometimes you feel a little more like Mole than you do Mrs Hinch or Marie Kondo – but as the fruits of labour start to ripen, the feeling of sweetness makes the toil a little more worthwhile.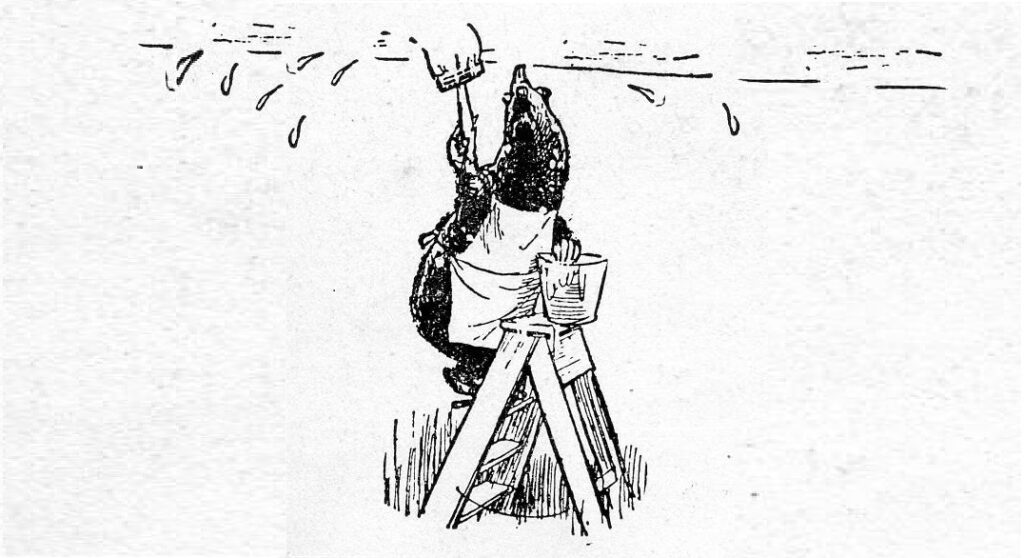 'Ducks' Ditty' by Kenneth Grahame from Wind in the Willows

All along the backwater,
Through the rushes tall,
Ducks are a-dabbling,
Up tails all!

Ducks' tails, drakes' tails,
Yellow feet a-quiver, Yellow bills all
out of sight
Busy in the river!

Slushy green undergrowth
Where the roach swim –
Here we keep our larder,
Cool and full and dim.

Everyone for what he likes!
We like to be
Heads down, tails up,
Dabbling free!

High in the blue above
Swifts whirl and call –
We are down a-dabbling
Up tails all!

There is always something calming about reading a little of Wind in the Willows. Kenneth Grahame's ode to a simple, pastoral life, as experienced by the four animal protagonists, is wonderful escapism for adults as well as children. His writing started as a sideline whilst he was working at the Bank of England, a career which saw him rise up through the ranks to the position of Secretary before retiring just as Wind in the Willows was published in 1908.

Another former Bank of England employee is the author of our featured Coles Signed Edition this week – Mark Carney's soon to be released 'Value(s)' is a call to action for building a better world. Through his 7 years as Governor, Carney is perfectly postioned to see how the world machine works, and what needs to be done to tweak the settings, adjust the controls and make it work smoother and more efficiently – these are times of change and this eagerly anticipated book is sure to have many interesting, well thought out ideas; this week's other governor is Guvna B, his well regarded journey through the pitfalls of toxic masculinity is also very much of the moment; our storytellers this week are Laura Shepherd-Robinson, Lucy Jago and Booker Prize winner Richard Flanagan; we return to our childhood with the designer of the Chopper bike, Tom Karen; poet and now novelist Patricia Lockwood reflects on social media and we have a rather beautiful coffee table book by Nathalie Farman-Farma – escapist interior design! and in time for Mother's Day, author Beth Morrey will sign dedicated bookplates for Coles customers for orders placed by 1st March for the paperback edition of her bestselling novel 'Saving Missy' – a lovely gift for Mums up and down the land.

Following the success of our Stormtrooper bookends the other week, we're following up with something for those who like their books turned up to 11 – our fabulous Motorhead bookends come in two styles – 'Ace of Spades' and 'Warpig' – let's rock!